Greetings, Descendants!
A new patch will take place on September 14th to add new events, packages and…some brand NEW Castle Skins!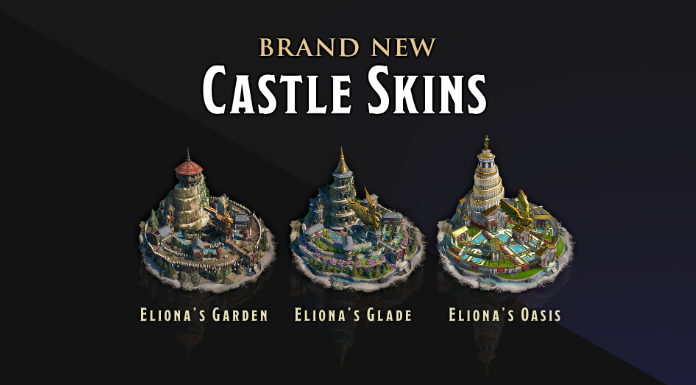 Each of Eliona's skins will provide the following Castle Buff:
25% reduction of enemy troop defense when attacking them.
Acquisition Method: 
Eliona's Garden tickets will be distributed through the Inn's Random Card Draw. 

Eliona's Glade will be available for purchase in the VIP shop.

Eliona's Oasis tickets will be available via packages.
■ 9/14 Patch Notes
● Patch Schedule
9/14 (Wed) 8:55 AM (PDT)
9/14 (Wed) 08:55 (System Time)
● Patch Details
1. New Eliona Castle Skins (x3)
2. New events in the Event Center
Construction/Research Event
Dark Moon Troop Kills
Gold Rush
Special Gold Event
3. Random Card 10X Event
4. New packages in the shop
September Weekly Special Package
For the Titans!
Convenient Dark Moon Package
Dark Moon Premium Package
Brutal Alliance War
Eliona's Oasis
* These changes will be applied upon reconnecting to the game after the patch.
* Events and package details can be found in the game after the day reset.
Go Forth, Descendants!