Hey Descendants, starting after our weekly patch is another furnace event! But it will look a little different this time than in the past; more of a makeover.
Event details
For the duration of the event, starting after the patch on 2023-07-05 until the following patch on 2023-07-12, if you can maintain a furnace temperature above 5000 degrees for 23 hours, a Divine Heat Chest will be paid out. Unlike previous events, there isn't a specific event gem to burn this time around. Instead, you will be able to burn a new list of items from your inventory (including any old event gems you have lying around). This modest reward chest will pay out these goodies every time you receive one:
| | |
| --- | --- |
| Humble Divine Cache | 1 |
| 24-Hour Speed Up | 100 |
| 30-Day Speed Up | 25 |
| Uncommon Chest of Sacrifice | 1 |
Once the event ends, this reward will revert back to what will be the standard chest going forward, focused only on speed-ups.
Upcycling
Right, with the specific event details covered, I'm more excited to talk about everything else to do with the furnace. You work hard, so the furnace should play hard.
In keeping with my focus on the "fantasy" of the game, we've had a think about what the essence of the furnace should be. The system allows players to burn items from their inventory in exchange for heat, which is a form of energy generation. A close relative to energy is work, and a good application of work in RFB could be speed… And so, the furnace will now be somewhere you can burn your excess stuff in exchange for speed-ups!
The burn list
Let's start by exploring the excess stuff part of the equation. The headline here is that we're opening up the range of what can be burned in the furnace.
Zircon Furnace Gem

Hotter Furnace Gem

Emerald Furnace Gems

Spartan Titan Fragment

Gatekeeper Titan Fragment

Warlord Titan Fragment

Savior Titan Fragment

Spartan Titan Core Shard

Gatekeeper Titan Core Shard

Savior Titan Core Shard

Warlord Titan Core Shard

Humble Divine Hammer

Divine Hammer

Consecrated Divine Hammer

Anointed Divine Hammer

Ornate Divine Hammer

Saintly Divine Hammer

Quartzite

Divine Stone

Marble

Titan's Tear

Orb of Trial

Maester's Compass

Kindling

Shackle

War Trumpet

Basic Token of Spade

Basic Token of Heart

Basic Token of Clubs

Basic Token of Diamond

Common Token of Spade

Common Token of Heart

Common Token of Clubs

Common Token of Diamond

Uncommon Token of Spade

Uncommon Token of Heart

Uncommon Token of Diamond

Uncommon Token of Clubs

Lv 6 Dark Lord Material Chest

Lv 5 Dark Lord Material Chest

Lv 4 Dark Lord Material Chest

Lv 3 Dark Lord Material Chest

Lv 2 Dark Lord Material Chest

Lv 1 Dark Lord Material Chest

Dark Lord Material Chest

Grade 5 – 6 Rune Chest

Grade 3 – 4 Rune Chest

Grade 4 – 6 Rune Chest

Grade 3 – 5 Rune Chest

Grade 2 – 4 Rune Chest

Grade 1 – 3 Rune Chest

Grade 6 Rune Chest

Grade 5 Rune Chest

Grade 4 Rune Chest

Grade 3 Rune Chest

Grade 2 Rune Chest

Grade 1 Rune Chest

Grade 3 – 6 Aura Chest

Grade 2 – 6 Aura Chest

Grade 1 – 5 Aura Chest

Grade 1 – 4 Aura Chest

Grade 1 – 3 Aura Chest

Grade 1 – 2 Aura Chest

Grade 6 Aura Chest

Grade 5 Aura Chest

Grade 4 Aura Chest

Grade 3 Aura Chest

Grade 2 Aura Chest

Grade 1 Aura Chest

Immortal Equipment Upgrade Hammer
Some of the things on this list may look out of place. Why would you burn Spartan Titan Fragments? Well…you probably shouldn't. I certainly don't recommend it. But you can, and that's important. It's especially important because this list will remain even after the event ends. We also intend to update it to include more items over time. The furnace will be a major part of keeping your inventory clean, and capturing value from things even after they stop being directly useful to you. A few years from now, maybe you don't need any more Spartan Titan Fragments and would prefer a few heat chests.
Hot stuff coming through
The heat chests that you gain from burning your stuff will give a random assortment of speed-ups, with the grade depending on your heat range: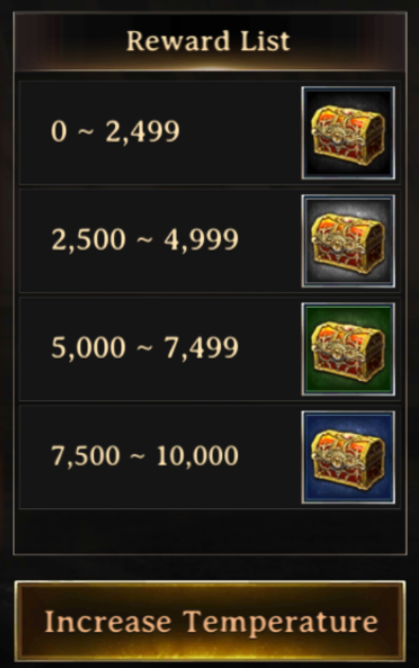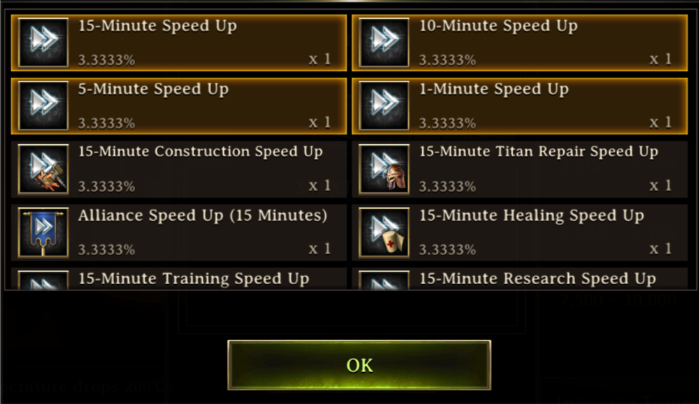 These chests are not overly generous, as we had to keep in mind that they are effectively unlimited. It's our hope that the furnace will help solve some of the "dead end" problems and can turn junk into something that's at least useful. 
A conspicuous limitation
For some of you reading this, any mention of us changing the furnace might bring up some not-so-great memories. There are a few technical limitations that really narrowed our plan, and forced us to make some trade-offs.
Most of these we hope are invisible to you, but there is one that stands out like a sore thumb. We have set a number of items to not pay out a heat chest when you burn them. Instead, they will provide proportionally more heat.

I might have opted not to bring extra attention to this, except that the game will very proudly make sure you don't miss it!
I truly believe this is not only a necessary design choice, but a good design choice. The bonkers quantity and availability of some of the things that we want to include on the burn list practically forces us to make this trade-off. Now those things that otherwise take up space can be used to heat your furnace for weeks and months to come, contributing some value instead of just taking up space.
Pay attention to the "obtained chests" label when you're increasing your heat to see which items give out chests and which don't. This list may change over time.
Stay toasty, 
KIX_Standard